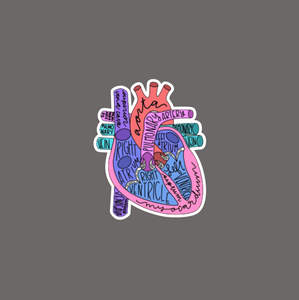 Anatomical Heart Printed Sticker
Anatomical Heart Printed Sticker
Size: 2.5″ Tall by 2″ Wide
Going into the medical field, learning about the human heart or do you just have a love for the anatomy of the Human Heart? Well this sticker is for you! 
This is a fully Printed & Laminated Sticker, that is made with high quality vinyl, which makes the sticker Weather-Proof & Water-Proof which allows it to be placed indoors or outdoors and is made to last years! This design comes with a white outline/border.
If you would like this sticker or any other sticker in a different size please contact us and we will take care of you.
We also do custom vinyl decals & stickers. Let us know what you need so we can get you taken care of.